We, CustomJapan "Vehicle Lovers Company" in the concept
and business mainly on aftermarket parts sale for all over Japan.
Our main business is B to B aftermarket parts mail order business. Our customers are motorcycle dealers, bicycle shop, four wheel maintenance shop and gas station in tens of thousands of stores in the whole country.As a print medium, we have published a comprehensive mail order catalog of more than thousand pages. Also we have individual product brochures for each category.In addition, as a web medium, we have a members only website which offers members a fast and convenient way to do business. Members can see online catalog, check stock, see pricing, place orders, products search and much more. The Number of members of the site is approximately 70,000 shops. Reached more than 90% motorcycle dealers in Japan have become a member of our site.The number of products (SKU-based) on the online catalog is more than 150,000 and the items we carry are mainly on a national brand and an original brand.Our customers are not only motorcycle dealers and bicycle shops and four wheel maintenance shops but also we contract the part supplier of postal administration vehicles and use the original brand of our company.We are also involved in many of original product development and will give advantage of your cost of purchase by which to achieve an attractive pricing for our valued members.Custom Japan is still young with nine years. But we already have the largest market share in the B to B aftermarket parts business of mail order sales of motorcycles and bicycles industry in Japan. Also, we put the Asian market in the field of vision and aim at the top company in the B to B aftermarket parts mail order business specialized in the motorcycle industry and the maintenance tools from now on.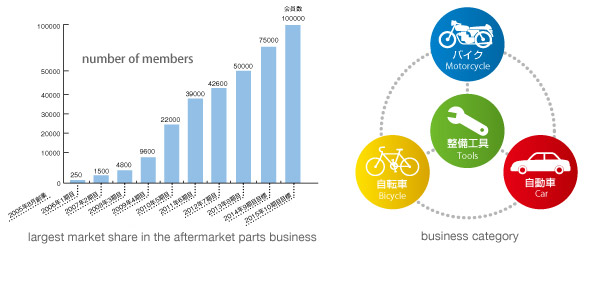 ページのトップへ

1.The largest printed catalog and web catalog in the industry
We emphasize not only a print medium but also dealer web site which only our authorized dealer can log in. In addition, we improved the product search system on our web catalog and we have added new functions. The narrowing of search results functions to make it easy to look for an objective and specific products. The change function of the indication design to facilitate a product comparison. According to the increase in the number of products, we have been made to improve the operation and the search system on our web catalog.
⇒
https://www.customjapan.net/
2.The new original part search system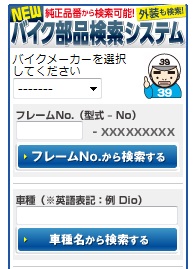 While aiming at improvement in a customers' convenience and for the purpose of realizing more effective logistics, an open type motorcycle parts search system is imported for the first time in the industry.We add new function "the tire search feature" covering to almost all domestic cars. Finally our original part search system became more friendly and easier to use. On the other hand, we imported an exclusive system about the car parts search. A system that you can find correct parts fitment information from customer's vehicle's model specification number of inspection information, type the partition number, model number, genuine parts and superior part number.
3.The call center organization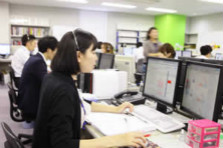 We have maintained the call center system by the telephone operators. Not only on the web and order by FAX, we are accepting telephone orders and requests from customers on weekdays. Imported CTI system to integrate phone and computer, we have to realize accurate customer support. There is also a system that is connected online with the manufacturer, you can quickly find out the information for various parts.
4.Strict quality control by the technical staff
In order to deliver products with safety and satisfaction to our valued customers, we are committed to a thorough product management by the professional technical staff. Our R&D staff goes to an overseas factory directly and they ship it with thorough process control and inspect it.


5.Fulfillment center that can be shipped same day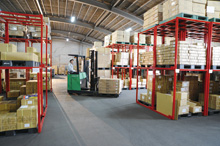 Our fulfillment center is the industry's greatest scale. Warehouse of the container yard which a three 40 feet of containers can store and about 3,000 square meters of total floors. Integrated management of approximately 100,000 or more products have realized the logistics can be shipped same day.

ページのトップへ